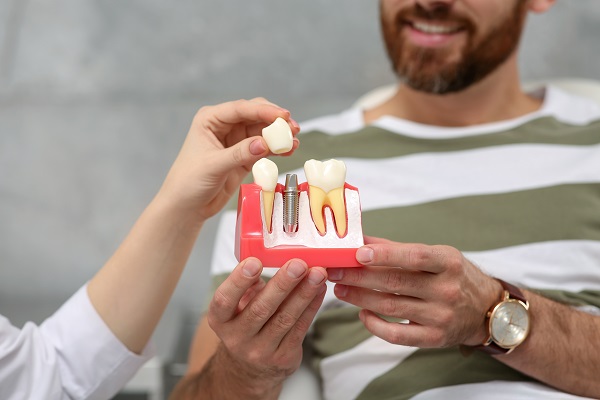 Dentures and dental implants are two of the most common methods of single tooth replacement. Both are effective, but one might be preferable to the other, depending on the specifics of the patient's situation and the patient's preferences and needs.
A review of dentures and dental implants for tooth replacement
When determining whether dentures or dental implants is the most appropriate for tooth replacement, you should have a full understanding of the definition and benefits of each option. The following is a review of what dentures and dental implants are and when one might be a better solution than the other.
What are dentures?
Dentures refer to a set of replacement teeth that are supported by the gums. A partial denture is made to replace just one tooth, and complete dentures replace an entire row of missing or severely damaged teeth. Dentures do not require a surgical procedure, and the process is overall much shorter than with dental implants. They are removable and must be washed and rinsed regularly. Dentures look natural and improve function, but they typically do not last as long as dental implants.
What are dental implants?
Dental implants are screw-like posts that go into the jawbone during a minor surgical procedure. The replacement tooth (or teeth) is attached to the abutment of the implant after the mouth heals. The process is longer and slightly more invasive, but dental implants offer benefits that dentures do not, such as the ability to persevere bone density. Dental implants are not removable and are often far more durable than traditional dentures. In fact, they can last for 20 or more years if they are cared for properly by the patient.
When to choose dentures
Most notably, dentures are ideal for patients who prefer a shorter treatment process. On average, dentures only take two or three months (although treatment times vary) to install, which is about half the time of dental implants. Also, dentures are removable. This is an advantage for some, but many others may find it easier to have implants that are permanently fixed. From a cost perspective for patients without insurance, dentures may be less expensive initially, but they often require more maintenance in the long term.
When to choose dental implants
Dental implants are the most ideal for patients who want a tooth replacement that looks, feels and functions like natural teeth. Many patients who replace dentures with dental implants find the implants to be more comfortable. However, patients should be willing and able to go through a longer and more extensive treatment process that involves a minor surgical procedure to place the implant in the jawbone. Dental implants are also ideal for patients who prefer a treatment option that does not require as such maintenance in the long term.
Schedule a consultation with our friendly dental staff
Our team helps patients through the tooth replacement process, no matter what type of treatment you prefer. Contact us today to arrange a visit with our friendly team. On your first visit, we can answer your questions and get the tooth replacement process with dentures or dental implants started.
Are you considering a dental implant in the Cleburne area? Get more information at https://www.nolanriverdentalcenter.com.
Check out what others are saying about our dental services on Yelp: Dental Implants in Cleburne, TX.
---
Related Posts
July 1, 2022
Dental implants are artificial teeth roots that can be used to replace missing teeth. A tooth can be knocked out by trauma to the face, or it might fall out due to bone …