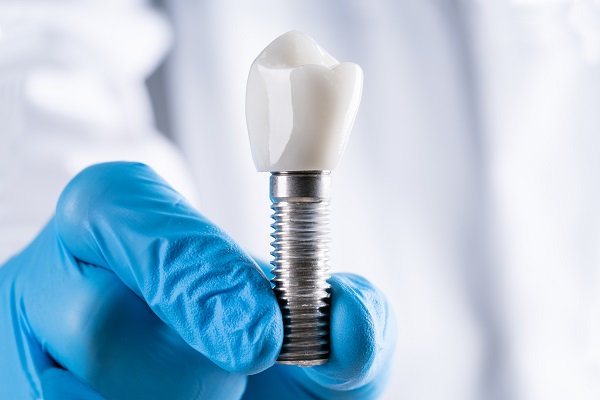 Dental implants are artificial teeth roots that can be used to replace missing teeth. A tooth can be knocked out by trauma to the face, or it might fall out due to bone loss caused by periodontal disease or severe tooth decay.
Most people will lose at least one of their teeth at some point in their lives. About 178 million people in the U.S. have at least one missing tooth, while about 40 million have lost all their real teeth.
Historically, the most common way to replace missing teeth has been with oral prosthetics like bridges and implants. However, neither of these restorations addresses the bone tissue loss that takes place when a tooth falls out. Implants are the only teeth replacement option that keep the jaw properly stimulated after a tooth falls out.
Bone tissues work similarly to the way that muscle tissues work. They become stronger when stimulated and atrophy when they stop getting stimulated. Implants work as artificial teeth roots that are fitted with a restoration like a crown. Bite forces are transferred to the wearer's jaw when they chew.
Why you should go with dental implants
Looking for a way to replace your lost tooth? Let us look at reasons that you should opt for dental implants over alternatives like bridges and dentures:
1. Improves the patient's quality of life
Many people who get dentures end up unhappy with their prosthetic. These devices replace missing teeth, but they rarely ever fit perfectly for long. That forces some people who wear dentures to use dental adhesives to try and create a better fit. These adhesives typically have unpleasant tastes.
Dentures also require specialized daily cleaning. The appliance needs to be cleaned with denture cleaner and soaked in a denture solution overnight. Then, the patient still needs to go through their oral care routine.
Implants do not require any special cleaning. Brushing and flossing are all implant wearers have to do to keep their prosthetic in good condition. They do not get in the way of oral hygiene like bridges can, and they do not come with the hassles associated with dentures. People who have implants can forget that they have an artificial tooth.
2. Durable oral prosthetics
Implants are as durable as oral restorations can be. Most implants are made with titanium, one of the strongest metals. These rods can withstand extreme bite forces and typically last the rest of the patient's life if they practice good oral hygiene. Implants are often fitted with crowns, but they can be attached to other restorations like dentures and bridges as well.
3. Looks natural
Implants and the restorations attached to them are designed to blend in with the rest of the patient's teeth. Implants are not noticeable when a person smiles or opens their mouth. Dentists often have to perform X-rays to detect implants.
Get your missing tooth replaced
Call or visit our Cleburne clinic to learn more about how we can replace your missing tooth with dental implants.
Request an appointment here: https://www.nolanriverdentalcenter.com or call Nolan River Dental Center at (817) 517-6453 for an appointment in our Cleburne office.
Check out what others are saying about our dental services on Yelp: Dental Implants in Cleburne, TX.
---
Related Posts
October 5, 2023
Dental implants are becoming one of the most popular options for patients who need to replace one or multiple teeth. Our smile is usually the first feature someone notices about us. We …